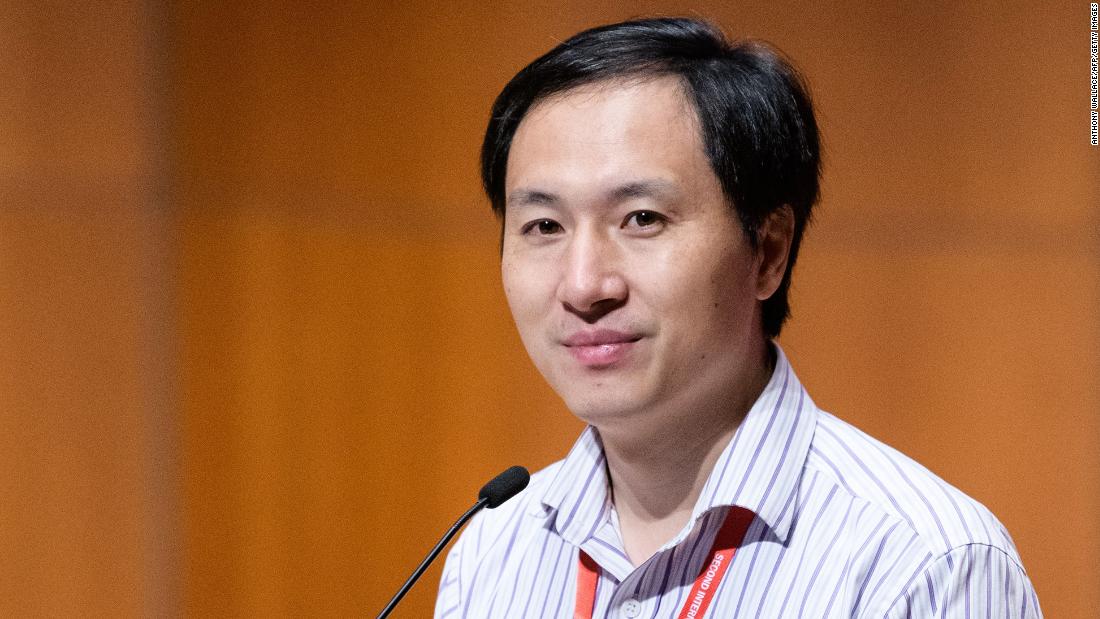 (CNN)Chinese scientist He Jiankui sent shockwaves around the world last year with his claim that he had modified twin babies' DNA before their birth. The modification was made with gene editing tool CRISPR-Cas9, he said, and made the babies resistant to HIV. Scientists from China and around the world spoke out about the experiment, which many say was unethical and not needed to prevent the virus. The scientist had also been warned by peers not to go down this path.
He's experiments, which are still clouded with the uncertainty of his claims and his whereabouts, open a Pandora's box of questions around ethics in experiments with humans — even though these dilemmas aren't new.
Such experiments have been criticized as unethical but have advanced medicine and its ethical codes, such as the Nuremberg Code.
When He made his claim of genetically altering humans, the response from the global medical community was swift and condemning.
Renate Guttmann was one of the "Mengele Twins," according to the Holocaust Encyclopedia, subjected to experiments such as injections that made her vomit and have diarrhea, and blood being taken from her neck.
But some doctors felt that this code did not apply to them.
Krugman's experiment helped him discover two strains of hepatitis — A and B — and how these spread, A spreading via the fecal-oral route and B through intimate contact and transfer of body fluids. Fifteen years later, he developed a prototype hepatitis B vaccine.
In his paper, Krugman agrees with criticism that the ends do not justify the means but says he does not believe that to apply to his own work, since all children at the school were constantly exposed to the risk of acquiring hepatitis.
Kelly Edwards, professor of bioethics at the University of Washington, thinks back to the needed balance of risks and benefits in an experiment. "We had a trend of saying 'this group of people is already suffering,' " she says, which inspired researchers to study these populations for some generalizable knowledge that would help others. "But we still are really taking advantage of this one group of people suffering."
She believes there are now other methods that would have brought the same results. But because the vaccine was acquired in this unethical way and we are using the "tainted data" — results from unethical experiments — Edwards says we owe some recognition to "the children who contributed to that knowledge."
The need for retribution and compensation is found in a famously unethical experiment: the Tuskegee syphilis study. Syphilis was seen as a major health problem in the 1920s, so in 1932, the US Public Health Service and the Tuskegee Institute in Alabama began a study to record the natural progression of the disease.
Those who carried the diseases were not treated for syphilis, even when penicillin became an effective cure in 1947.
After the first reports about the study in 1972, an advisory panel was appointed to review the Tuskegee study. Their conclusion was that the knowledge gained "was sparse" compared to the risks to the subjects. The study concluded in October of that year.
Shortly after, a class-action lawsuit was filed on behalf of the participants and their families. A $10 million settlement was reached.
Edwards noted that many medicines and vaccines now in routine use were obtained initially through unethical means, "and some of them are not even as much on our consciousness."
The commission responsible for the Belmont report also wrote topic-specific reports, one of which was on the use of prisoners in experiments. "It was a pretty widespread practice to use prisoner populations," Edwards said, because it was seen as offering them a way to repay their debts to society.
Participating in these experiments was one of way for prisoners to earn money and a further means to control them, Loue said.
Prisoners' inability to give consent because their lives are completely controlled by others and the large risk of coerciveness are what inspired the Belmont report to rule out experiments with this vulnerable population, Edwards said.
The reports that followed these experiments were used to draw up laws and governance bodies, such as institutional review boards. These boards are made up of a small group of representatives from the institution that would like to carry out the experiment and one non-scientific community representative; they decide whether an experiment is ethical and should go ahead.
Edwards says the institutional review boards offer a small one-time assessment of the situation. She hopes for more ongoing ethical review practices during experiments, like data safety monitoring, used mainly in clinical trials. This monitoring tool can halt an experiment at any time.
Original Article : HERE ; This post was curated & posted using : RealSpecific
Thank you for taking the time to read our article.

If you enjoyed our content, we'd really appreciate some "love" with a share or two.

And ... Don't forget to have fun!